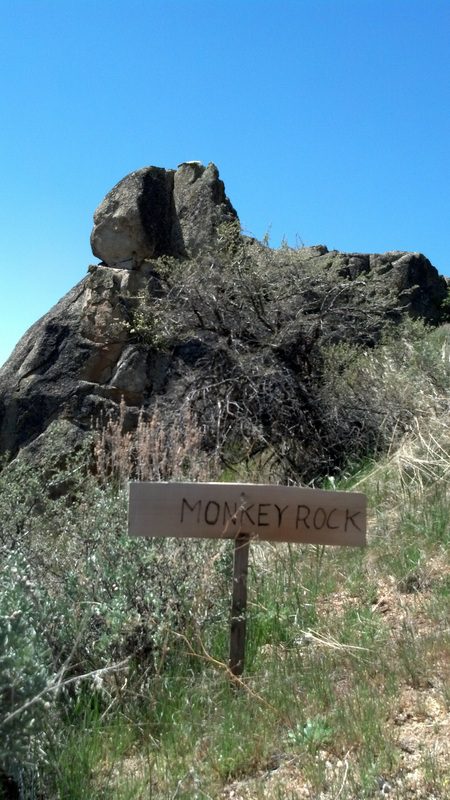 The Hike to Monkey Rock
The 3-mile hike to Monkey Rock is the Classic Hike at Bare Mountain. Head out the "Jeep Trail" at the lower end of the camp and after 1/2 mile take the cutoff to the "Lake View Trail" for a scenic uphill hike with vistas of the lake far below. At the top of the hill take the "Streak Peak Trail" loop to the summit, them back to the "Monkey Rock Trail" and finally down "Black Diamond" to the pool.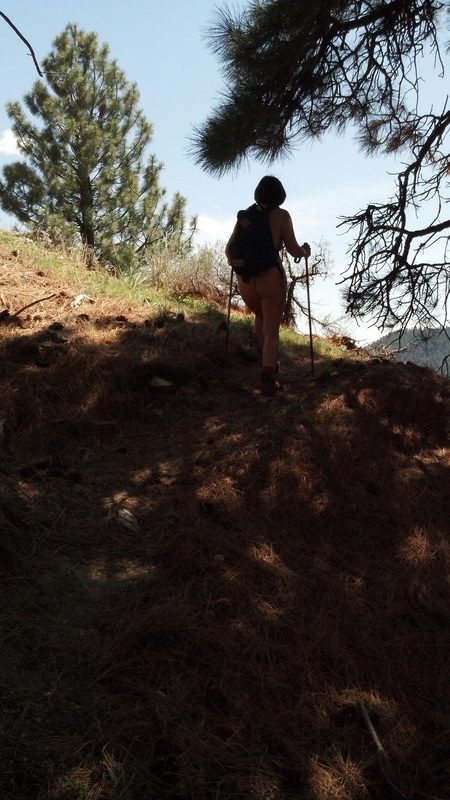 Black Diamond
This hike is a challenge even for the fittest of nudists. Start the hike at the pool, keep climbing and bearing left and take the upper road past the A-Frame. Keep to the left and cross the bridge for a 1/2 mile climb straight up "Black Diamond Trail". Take a breather and see if you can find the monkey in Monkey Rock. After you reach Monkey Rock you can take the "Monkey Rock Trail" traverse to the east and catch the "Lake View Trail" for a gentle descent back home. Or you can turn around when you reach Monkey Rock and scramble back down the face and head to the pool for more volleyball. You'll have earned it!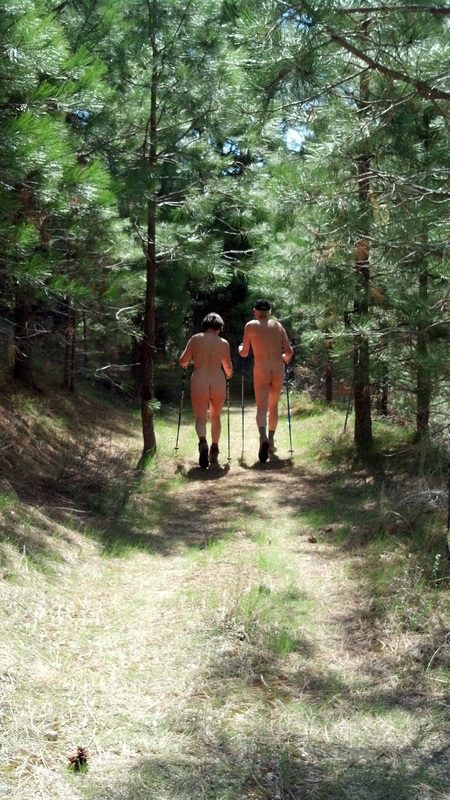 Loop Trail Plus
Thanks to the efforts of many, Bare Mountain is now home to a fairly extensive system of trails, which are primarily represented as a loop, starting at the lower end of camp, and ending at the upper end, and onward to the pool. There are other trails as well, that take off from there, and still others in some stage of construction. As Bare Mountain exists on the side of the canyon, many of the trails offer a good workout as they represent quite a climb.
Winter Hiking
Our gates are closed in winter but some members like to don snowshoes and hike the mountain in the snow.